Building is a messy business, and it's important that the same care and attention to detail that went in to the construction phase is also exhibited during the clean-up process. There's nothing worse than handing over the keys to an excited new owner, only for them to be disappointed by the state of the property! We work alongside leading developers and building companies throughout Canterbury & Auckland region, helping to ensure their finished product is presented in immaculate condition.
---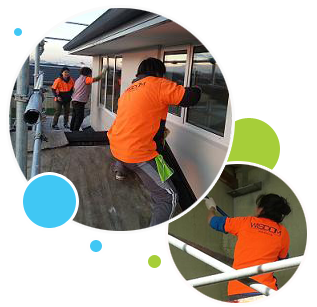 Wisdom Commercial Cleaning® has grown to become one of the largest builder's cleaning service providers in Canterbury and Auckland. We have built a solid reputation for its consistent quality of services and a comprehensive support system. We are a New Zealand owned and operated company and regularly perform cleaning for leading builders and developers in many different locations around Canterbury and Auckland regions.
The final clean is a very important part of the building project because the presentation of the home makes a huge difference to the client's happiness at handover. We currently have a number of long-term relationships with award winning quality builders because they know that they can trust Wisdom Cleaning® to deliver top results every time.
Our flexible new build service includes:
Full clean of the home prior to handover
Alterations and building site clean ups are also available -any job types are considered
Per square metre rate or individual quotations
Building site clean-ups available
Jobs completed on time, every time 100% GUARANTEE
Levels of cleaning tailored to your requirements
Our trained staff will advise on any issues or problems when giving their completed report
If you would like to enquire about how Wisdom Cleaning® can manage your builder's cleans and any building site work, please contact us at any time or if you would like to hear what our valued customers say about us, please see our Testimonials