Nothing is more important to us than honesty and integrity, and we've gone to great lengths to attract a team of cleaning professionals who share these values.
The comprehensive background checks each and every one of our staff members undergoes provides confidence and peace of mind for our clients, while regular audits and inspections ensure we consistently maintain the most exacting standards and produce the highest quality results.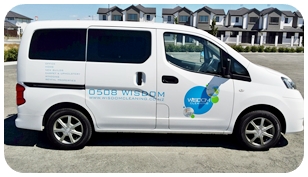 All Wisdom Cleaning staff undergo police checks, and all Associates sign a confidentiality agreement to protect both the physical, and intellectual, property of our clients. All staff wear a uniform, including Hi-Vis vest, and carry photo identification cards, while our comprehensive Public Liability Insurance Cover allows our clients to sleep easy.
We wholeheartedly adhere to the concept that 'time is money', and understand the importance of both in-depth planning and efficient application. So, quite simply, when we say we'll be there, we'll be there; when we say we'll do something, we'll do it. We pride ourselves on our reputation for reliability, becoming trusted partners with our clients and offering a service they can depend upon.
To enable us to provide the exceptional service our clients demand, we're constantly reviewing our processes and looking for ways to adopt new techniques and broaden the solutions we offer. Wherever possible we use non-toxic, environmentally-friendly cleaning products, and can offer 100% 'Green' solutions for those with specific requirements, including businesses working with children or in food preparation.